Providing high quality, made in the USA dog leashes and products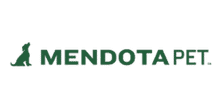 Unleashed is proud to carry Mendota in New London, New Hampshire. Founded and family-ran since 1994, Mendota Pet has been providing high quality, ""made in the USA"" gear, health and skincare products.
Our Gear line has all the necessities that your dog will need, whether its just an everyday use for a collar and leash, for the big hunt or all the way to the Show Ring! Mendota's gear for dogs is built to last, in fact we guarantee it for the life of your pet.
Mendota Health and Skincare (DERMagic) lines will provide for all your supplement and problem skin and coat needs. Our supplements are your dog's direct access to world class, made in the USA, natural supplements and life cycle programs. Our Skincare line offers all-natural skin care formulas, while using only the finest organic ingredients. Our products instantly relieve itching and redness, promote rapid healing and regrowth of lost hair or fur, and restore good skin condition. It's fast safe and incredibly effective – GUARANTEED!
Dog Product
Mendota Snap Leash
Double Braid Collar - Brass
Leather Snap Leash - Chestnut
DERMagic Organic Shampoo Bars
 Skin & Coat - 14 oz.
Petite Loop Lead (Nylon)
Mendota Training Dummy Ropes
Come visit our pet supply store in New London, NH specializing in quality food, treats, and supplies for cats and dogs.